Welcome to our comprehensive FAQ article on creating ads! This guide is designed to provide you with clear and concise answers on how to get your ad up and running on NewsBreak.
What's the difference between campaigns, ad sets, and ads?
A campaign is a series of ad sets and ads that work together towards a single objective, like generating brand awareness. Ad sets are containers within campaigns that house one or more ads, allowing for targeted audience selection and budget allocation. Ads are the visual content you actually see displayed within the app. I've created a visualized representation of my explanation, which you will see below.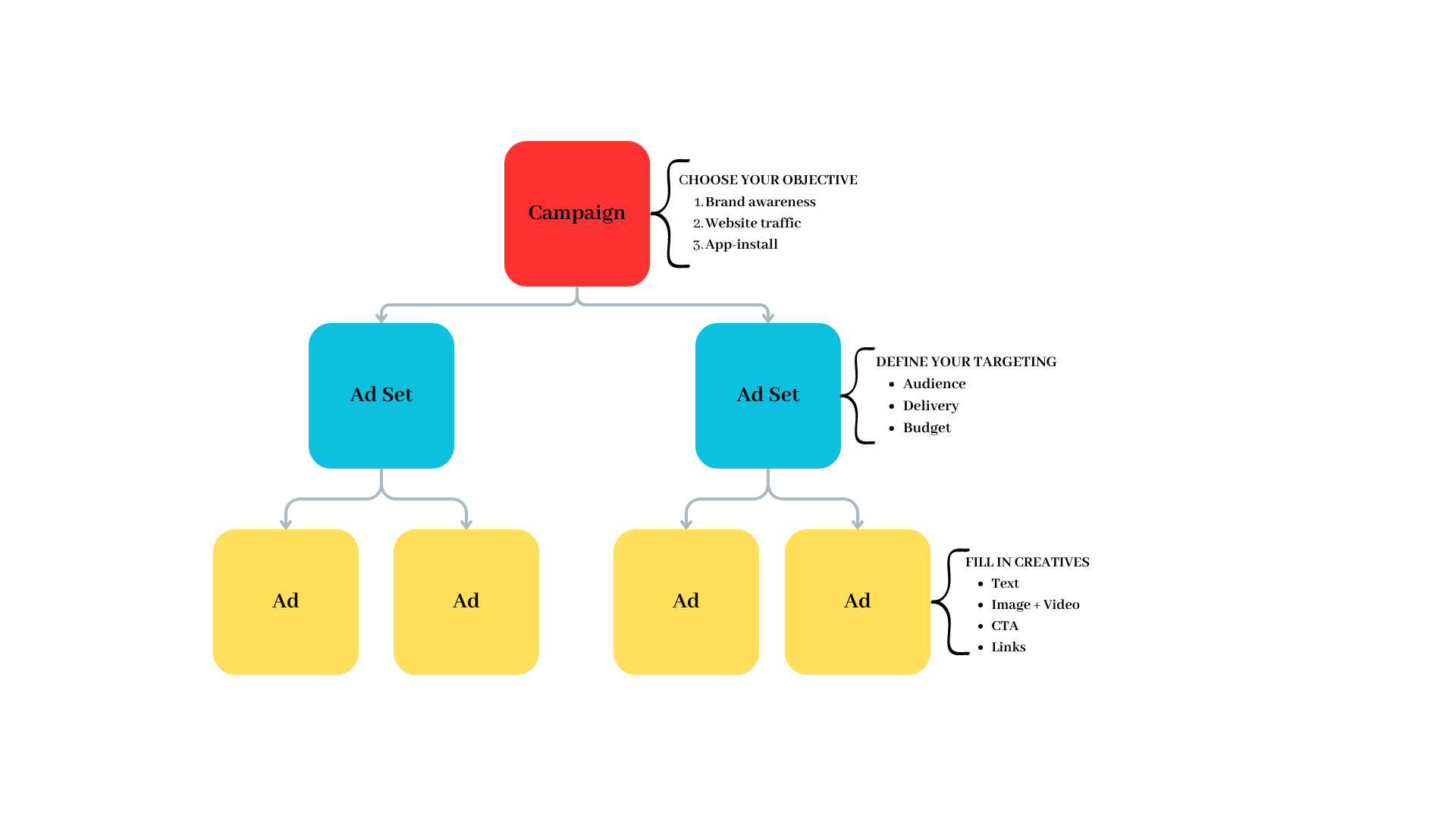 Steps to create an ad
Access Ad Management.
Click 'Create Campaign.'

Choose the objective that aligns with your goal, such as brand awareness, website traffic, or app installs. Make sure to hit 'Save and Next.'

Select your targeting.

You can build an audience based on location, gender, age, user interest, etc.

Define how long you want your campaign to run.


Note that you can run your ads on specific days and times of the week.

Set your budget.


Enter your preferred budget, the minimum daily budget is $10.

Fill in your creatives.

Build

your

ad

by

ad

ding a headline, body, image/video, and link to

your

listing.

Save and wait for approval! You will get notified when your ads are live.
💡Pro tip: We recommend separating video ads and images into different ad sets.
What kind of targeting does NewsBreak offer?
We offer interest, demographics and location-based targeting that allows you the choice to geo-target your ad to specific zip, city, county, state, or national levels.
How long does the ad approval process take?
The ad approval process usually takes between 1-2 business days. Sometimes even earlier thanks to our awesome Ad Ops team!
How do I track the performance of my ads?
To track the performance of your ads, you can utilize the Reporting and Ad Management tabs, which provide insights and data on various metrics, allowing you to monitor and analyze the effectiveness of your ad campaigns.
How can I troubleshoot common ad creation issues?
Please make sure to hit 'Save and Next' instead of 'Save' on the Campaign and Ad set level, unless you intend on creating a draft.
For creative resizing problems on the ad level, we recommend using tinypng.com to compress and optimize your images.
Verify that you have a valid payment method associated with your account, even if you are using ad credits. If you don't have a valid payment method on file, your ads will not run.
When entering the landing page URL, ensure that you do not capitalize the "h" in the "http://" or "https://" protocol prefix.
Make sure to read the advertising policy before submitting ads.